Horizon Windmills weigh from approximately 250 to 300 kg
Tower heights: 4.5 or 6 metres
8 or 12 blades models & a 14 blade decorative model
Pump strokes and bore sizes adjustable for each individual installation
Suction lift to pump: 55+ metres (180 ft)
Pumping height : useful up to 60 metres plus.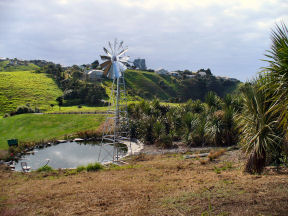 Horizon Windmills are a life long investment and may increase property values.
Let us know what your situation and requirement is and we will tailor make your windmill to suit. Your windmill will take approx. 6 weeks to build subject to galvanising turnaround and we require 2/3 deposit on ordering. We will deliver and install your windmill nationwide and ensure the pump is running properly.
Payment schedule:
2/3 deposit on ordering and final third paid on installation day, or kit set shipping day.
Prices:
$6000 for an 8 blade turbine American model, through to $9000+ for a large decorative colourful model.
Prices subject to change due to steel prices.
5 Year guarantee (excludes piston and seals in the waterpump).